Hai Duong car transfer provided by Hai Duong Tours. We provide car with driver to transfer you from Hai Duong to Halong bay, Ninh Binh, Hanoi airport, Hanoi Old Quarter, Sapa…and vice versa. Hai Duong car rental is also available for business man leaving in city or work in industrial zone.
Meeting point at Cat Bi airport
Cat Bi airport is small with 2 gates out. That's pretty easy to find each other. But just in case if you can't find our driver, please just wait at this fast food store.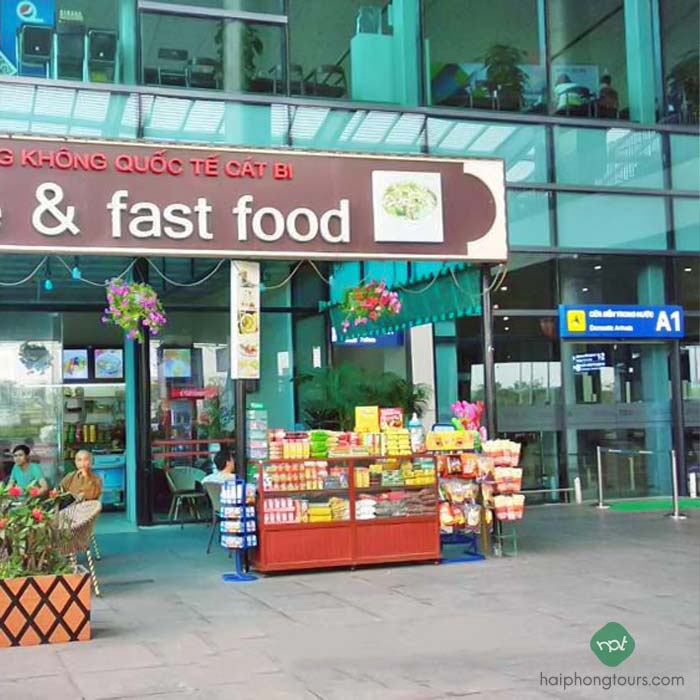 Why book Hai Phong private car transfer with us?
Scammer free
In Hai Phong, people find it easy to grab taxi around. But they maybe meet scammer or receive no support from them or operation.
Lost and Found support
Moreover, in some cases, passengers forgot things in the car. If it was in taxi, they may lost them. That's why you need to book private car with reputable company which has Lost and Found support. Luckily we have!
In that case, please just give us a call to +84975200357 or Whatsapp us at the same numbers, we do handle right away. This is emergency so please call or Whatsapp. Do not email in this urgent case!
Professional drivers
Our drivers are very responsible, funny and reliable. All of them are nice people and got positive reviews on Tripadvisor.
A/C inside
All of our vehicles have Air conditioner inside to make your journey comfortable
Seat bells available
We always consider Safety seriously. Then all of the seats have safety bell. Please fasten before departing.
Real-time online support
During your transfer, if you need any help or suggestion, please contact our Real-time online support team via https://haiphongtours.com/support or Whatsapp: +84975200357.
Most of drivers are limited in English speaking skill so please do not be shocked if they just smile when you ask anything!
Price for Hai Phong private car transfer
Prices changed due to special date, sale volume. So please just send request to us. Then we give you quotation instantly.
Are you looking for high class of Hai Phong private car? We also provide Camry, Fortuner, Sedona or Limousine Dcar. Please contact us for more information!
Book Hai Phong private car transfer
To Book Hai Phong private car, we provide some convenient options as following:
Social chat: We are available on Whatsapp, Zalo, We Chat, LINE, Kakao talk. Please find us by this phone number: +84975200357. You can also find quick chat button on the Left-Bottom corner on our website.
Directly chat support flatform: On our website: haiphongtours.com, please find chat button on the Right-Bottom corner. Then please fill in your name, email, phone number or Whatsapp, your question and click on "Start Chat". We will be with you within seconds.
Send email: If you do not find above convenient, please send email to 

[email protected]

to book Hai Phong private car. We do get back to you shortly.
Book directly on website: Please choose any option (if any) in the tour, select number of person in your group, then click to "Request now". Next, please fill in required fields and click "Send request" and wait for few seconds. Please note that this is to send request only. You will not be charged any kind of fee online.
Private car transfer routes sample
In Hai Phong, most of tourists hire private car for similar purpose. That is going to main tourist attraction in Hanoi, Halong, Ninh Binh. Following are some routes sample that you could refer.
Hai Phong to Ninh Binh
To transfer from Hai Phong to Ninh Binh, we keep going on the 10 road. Then we do join in 38B road and a part of 1A road also. All of above roads are in good condition. Maximum speed allowed for car's in range of 50-90km per hour. On the way to Ninh Binh, you will go pass Thai Binh and Nam Dinh province. Thai Binh is famous for Bánh Cáy. You can request for short break midway to try it with cup of tea.
Because this is private car transfer service, then we are flexible in pick up place as well as drop off.
If you are on Cat Ba island, please catch speed boat to Bính harbor or grab ferry to Đình Vũ ferry harbor. To get to Đình Vũ ferry harbor from Cat Ba town, please catch taxi, electric car or Xe ôm to Cái Viềng harbor. And then, they sell ticket right over there at the entrance.
If you have just finished your cruise trip to Lan Ha, Halong bay, they will drop you at office at Got harbor from 11h00 – 11h30. Our driver will do waiting for you from there and go directly to Ninh Binh.
When you are in city center, it's easier to make.
Regarding to drop off place, we only drop off at one place only. If it's more than one, please discuss with our saleman to decide if we should charge more OR NOT. We are able to drop you at hotel, homestay, Tam Coc, Trang An, Mua mountain or Bai Dinh Pagoda…
If you prefer, our driver can also drop you at tourist attractions in Ninh Binh, wait for you and take you to the next one. But in this case, we do charge more. Please contact us to discuss.
Hai Phong to Hanoi
To transfer from Hai Phong to Hanoi, we will go on 5B highway to save time. The maximum speed allowed on this highway is 120km/hour. Then we will take only 2 hours driving time to go to Hanoi Old Quarter or Hanoi airport.
About pick up, it's the same as Hai Phong to Ninh Binh above. Regarding to drop off, we drop off at 1 place only for example either in Hanoi Old Quarter or Hanoi airport. When you request for first drop off in Hanoi Old Quarter then second one in Hanoi airport, we will charge more depends on which car type you use. Please chat with our expert to know more about this.
Hai Phong to Halong
Most of our customers hire private car from Hai Phong to Halong are tourists. They book private car for boat trip on Halong bay and may return in the same day or the next 1 or 2 days. Depends on which tour or which boat, cruise they book to decide which harbor to go. There are 02 harbors to go to Halong bay at the moment. The first one is Tuan Chau harbor which has separated areas for day boats and day cruises. The second is Halong International Cruise Port which also allow oversea cruise ship entering like Voyager of the Sea Nassau.
Car types available
Hai Phong Tours provides some of common car types for tourists such as:
4 seaters sedan: Toyota Vios, Toyota Altis, Toyota Camry, Mazda…
7 seaters mini van: Toyota Innova, Toyota Fortuner, Kia Sedona…
16 seaters van: Ford Transits, Mercedes Sprinter, Hyundai Solati…
When you just need Private car transfer service, we will auto arrange car type to meet your request. If you are looking for high class one such as Kia Sedona or Fortuner, please mention in your booking or chat directly with us.
FAQs about our private car transfer
Does your car has seat bell available?
Yes, it does. Seat bell is required to be fasten everytime we move. This is traffic law.
Does your car has A/C inside?
Yes, certainly! All of our car have it inside. In any case that driver forgets to switch it on, please remind him.
Does your driver speak English?
Most of drivers in Hai Phong do not speak English. But if you need help, please use Google translator to show him. Otherwise, please contact us to get instant support.
Conclusion
This is private car transfer service so everything is flexible. Please just give us your requirement and we do get back to you shortly. If you book return way, the price is much better. Please also note that as default, driver will not speak English. If this is your requirement, please give us a note.
On behalf of Hai Phong Tours team, we hope you would have save journey and happy travel!